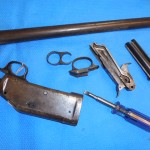 WINCHESTER 1897 GUNSMITH SERVICES:

Please note that prices quoted below do not include any shipping charges, parts, or extended labor for repairs.  Call for more information, 715-758-8380.
Inspection and cleaning, no action work. Includes complete dis-assembly of carrier, bolt, ultra sonic cleaning, ultra sonic hot oil bath (a spa for your 97), inspection of parts. You will be contacted at this point and informed of any parts that need replaced or work required to make it a safe and properly working firearm. You then make the determination of what you want to do.  Fee for this service up to you deciding what else you want to do is $75.00. If you opt for Action Job at this point, your total cost is only $195.00
Action Job, consist of ultra sonic cleaning of all parts, inspection of parts, modifications and polishing, $195.00. Price does not include any replacement parts.
TRENCH GUN CONVERSIONS are available. For Winchester 1897's the price for the conversion, including all parts and labor, $499.00. Remington 1917 bayonets are $125.00. Slings are available and price will vary upon your choice, ie green canvas, thick leather, thin leather.

Install Load 6 Modification, $45.00 includes load 6 kit.
Cut Stock at negative angle and add 1″ thick soft rubber butt pad, $89.00. Price includes pad.

Add Mercury Recoil Suppressor to stock as stand alone installation, $75.00. If done with the above "Cut Stock" modification the Add Mercury Recoil Suppressor price is $65.00

Cut barrel and install new #4 brass bead front sight, $55.00.

Re-Finishing Exterior Metal, estimated minimum price is $275.00 – $325.00, but firm price can't be given until I see condition of metal. Bead Blasting is an option for rougher metal finishes.  PARKERIZING is also available.